Planning on building an extension or converting the loft? Perhaps you're inserting a damp proof course or digging new foundations? Whatever it may be, you'll need to consider the party wall agreements and the effect on underground drainage systems close to your property first.
A party wall agreement is a contract that is devised between neighbours to eliminate and resolve disputes related to a party wall (shared wall) or construction work. The agreement should include details of the proposed work, how it will progress and who will be covering the costs; as well as the condition of the drainage system.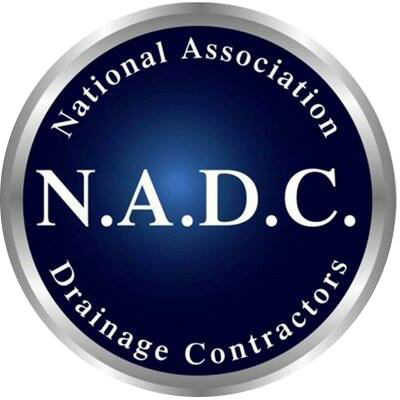 Accelerated Drain Services are proud members of the NADC – National Association of Drainage Contractors. Membership no 502
Party Wall Drainage Surveys London
Importance of party wall drainage surveys
A party wall drainage survey is an important part of the process when building works are expected to take place on adjacent properties. However, these surveys are frequently overlooked which can result in serious issues later on.
Take a look at the diagram. If house B was having a rear and side return extension or basement extension for example, the drainage systems at house A and C could be affected by the building work which could eventually lead to ground movement. This movement may impact the underground drainage system, which is why a build-over CCTV drain survey will be required at house B and houses A and C will both need a pre- and post-conditional drain survey (before and after the works) to certify that no damage has been caused due to the ground movement. Any excavation within 6 meters of an adjacent property will require a party wall drainage surveys and that's where our London party wall drainage surveyors can help.
Professional party wall drain surveys in London
Here at Accelerated Drain Services Ltd, we specialise in CCTV drain surveys in the capital and use XTI cameras to reveal factors that could potentially affect the building work that you have planned. We can inspect both your drainage system and your neighbours before the work commences and afterwards – to ensure that there are no disturbances to the systems. And, as standard, our party wall surveyors in London use Viewline & Wincan reporting software so can provide a detailed report, including high-quality images, to show you what condition the drains are in.
The building control will ask to see the report from the survey to ensure that Part H has been properly adhered to, and the post-conditional survey will provide you, your neighbours and our party wall surveyors with the assurance that adjacent properties have remained unaffected by the work.
Book a party wall drainage survey today
If you're based in London and could benefit from the expertise of a party wall drainage survey from ADS, please don't hesitate to book with us today. We will arrange a convenient time to come out and conduct the survey at your property and, more importantly, we'll make sure that your drains get the attention they deserve. After all, due diligence is key when building work is to be carried out.
For more information about our surveys or to find out how much a party wall surveyor costs, you're welcome to contact us on 0800 955 7955 or email info@certified-drain-surveys.co.uk, and we'll get back to you as soon as we can.
---
Request a Call
Enter your details below to request a call from one of our Drainage Experts