Here at Certified Drain Surveys Ltd, we aim to provide all customers with a suitable solution for maximising the functionality of drains, offering suitability for every budget.
Drain Milling is another service that we are proud to offer, here at Certified Drain Surveys, to those based across Greater London. Our Drain Milling service London is tailored to suit the requirements of those who are looking to repair their blocked drains.
Drain Milling London
What is Drain Milling?
If you're wondering what Drain Milling London consists of, you're in capable hands with Certified Drain Surveys!
Needless to say that drainage repair is a challenging subject that's best left to the experts. Our team of fully-certified professionals have the expertise to tackle blocked drains and to deal with the dirty work that comes with it too.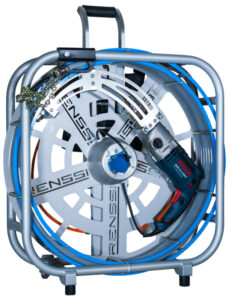 Utilising modern technology, Drain Milling allows us to remove any potential blockages from your drainage pipes, allowing water to flow fluently. The innovative equipment has a special function that targets the affected area to provide an effective cleaning solution.
Drain Milling prevents the need to excavate, ensuring that your drainage repair is minimally disruptive. For drainage pipes that are repeatedly blocked, Drain Milling can help to remove the blockage without having to completely dig up the pipes.
How does it work?
The process of Drain Milling London is relatively straightforward; the use of professional technology enables Certified Drain Surveys to detect and locate sewage with ease, ensuring that the blockage is removed efficiently.
A blockage can be identified when a CCTV drain survey is carried out. These cameras are sent through the drain to locate any problem areas within the system, making it somewhat easier for you to repair and target the obstacles.
The Drain Milling machines are used to control the pipeline systems and make sure that problems are solved quickly. Our machines will remove scale deposits and encrustation that forms on the interior wall of the drains, ensuring that materials can flow effortlessly.
In one sense, the Drain Milling Service London that we specialise in will descale your drainage pipes along with any other pipe imperfections.
Benefits of Drain Milling.
When compared to other drainage repair methods, Drain Milling London is considerably cheaper, providing you with an affordable solution for repairing and removing blockages from your drains.
The Drain Milling machines that we use at Certified Drain Surveys don't only offer an affordable alternative to excavation repair but are also more convenient and time-saving.
Digging up your pipeline to discover exactly where the blockage is can be time-consuming, to say the least, hence where our Drain Milling service London can come in useful! Our professionals can use the innovative machines to eliminate the need to dig up pipes, providing you with less disruption.
What to expect from Certified Drain Surveys Ltd?
Going back 15 years, Certified Drain Surveys cover Greater London, including Essex, Kent and Middlesex, and still do to this day! Having gained a positive reputation over this time, we provide Drain Milling London to accommodate even the most diverse demands, so should you need an emergency drainage repair, you can rest assured that our team of friendly professionals are always on hand to offer their expertise!
With our Drain Milling service London, you can expect to receive a service that is tailored towards your drainage needs, essentially eliminating any unpleasant costs and consequences.
Call us on 0800 9557242 or email us at info@accelerateddrainservices.co.uk to find out whether you could benefit from our Drain Milling services London.
Request a Call
Enter your details below to request a call from one of our Drainage Experts
Frequently Asked Questions